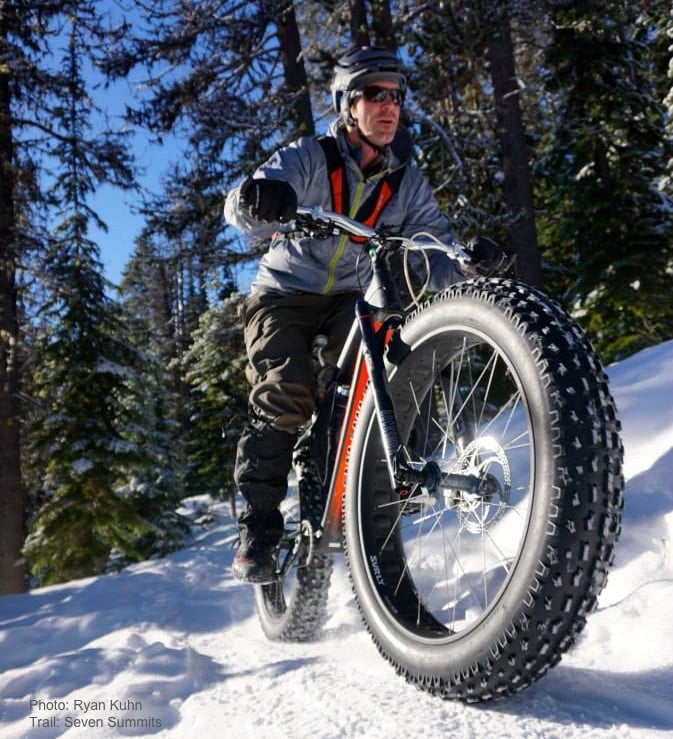 Rossland is a hotbed of Fat Biking in the winter.  Sure the town is full of skiers, but when it's 'cold and old' you'll find a lot of us out there, riding many of the same trails that we do in the summer.  The only difference is that the tires are bigger and the trails are smoother and more bermed out as the snow has buried all the roots and rocks.   (Of course, it is snow so you are never sure what you may get, we don't recommend that you head out after a big storm or if it's been above freezing for more than 24 hrs.)  
We have been working very hard at establishing a network of groomed trails around town and they are rolling very well at as I write this (Jan '19)  Also, up at the north Seven Summits trailhead there are trails on both sides of the highway that see regular traffic and are generally a blast to ride.  There is also a series of warming huts available to use in this area.  Check with us at the shop for current conditions and rental Fat bikes!   For more on our groomer, check out this LINK where you can see a picture of the beast and help the cause if you are so inclined...... 
This LINK should take you to the latest grooming report.