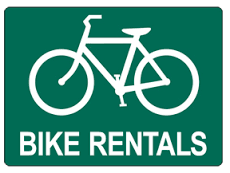 Trail bike rentals suitable for dirt riding the high end choice is the 2020 Trance 2 27.5" for $80/24h. Only size Med (5'7to5'11) and large(5'10 to 6'2) available . There is a less expensive choice in the Giant Trance 2 29"  riders at $70/24h. Only size Large (5'10 to 6'1) available.
Only one E bike for rent this year, Giant Trance E+2 Pro Full suspension size large (5'10 to 6'2)
We have a fleet of Rocky Mountain Blizzard -30's fat bikes with upgraded Surly tires.  They rent at $45/half day morning (9am to 12pm) or afternoon (12:30pm to 3:30pm) $60 for a full day (8:30am to 3:30pm) or $70 for a 24 hr rental (5pm to 5pm) 
Rentals include helmets and flat repair kit.  Its a great tool for romping around, and is super stable on rough trails for for inexperienced riders.